If you are using Internet Explorer 8, which many of my clients do use, sometime you want to delete your browsing history on a daily basis.  Previous to Internet Explorer 8, you had to go into the settings and delete it manually.  Internet Explorer 8 makes life very easy browsing the web and managing copied cache history files. You can setup Internet Explorer 8 to automatically delete browsing history when you exit (or close) it.
How to Automatically delete browsing history in IE8
1. Open Internet Explorer browser.
2. Goto Tools > Internet Options.
3. Click to check option "Delete browsing history on exit".
4. Then click Apply, OK.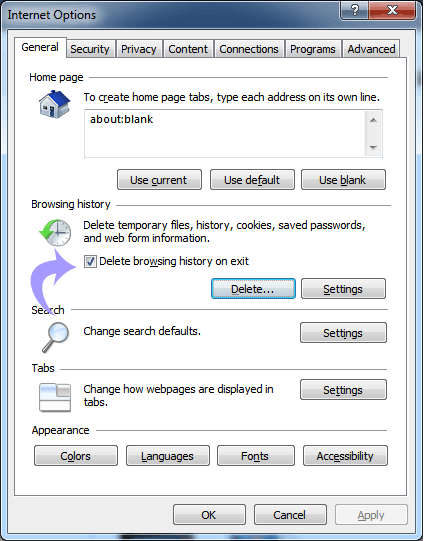 Done!  Now each time you close Internet Explorer your cached history will be removed!
_________________________________________________________________________________
The Computer Solution llc
Computer Repair Durango CO - PC Repair Durango CO - Mac Repair Durango CO - Tech Support - Virus Removal - Ransomware removal - Windows 7 - Windows 8 - Windows 10 - Mac OS X